SG Audio Visual TR Series 1.8m wide (100") Tripod Portable Screen (Square)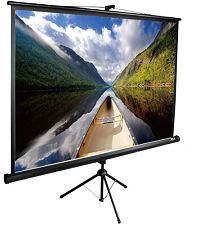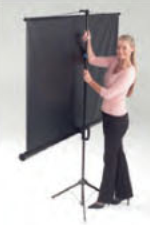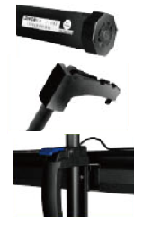 Suitability
This tripod screen is perfect for portable presentations to groups of around 20 people. The square tripod screens do not have a black leader meaning that height can be adjusted to suit any projector.
A screen carry case (see below) is recommended where the screen is frequently transported.
Specification
Screen Size
Screen surface (viewable area) area is 180cms by 180cms. The housing is slimline white and measures 16cms by 10cms. Overall width of screen including housing is 1.92m. The Screen weighs 10.7kgs. 100" size refers to the diagonal of the screen surface expressed in inches
Screen Surface
The screen surface is matt White and has a lightproof black back. The material is flame-retardant and mildew-resistant. The screen has a gain factor of 1.1.
Housing
The screen features a heavy duty, scratch-resistant metal case in black.The screen housing can be raised or lowered on the tripod.
Warranty and Spare Parts
1 year warranty against defects in materials & workmanship. An optional upgrade to 3 year warranty is available. Spare parts are maintained in our Australian warehouse.